Soundrive asked me to do the hardest thing I've done all quarantine - choose ONLY five album from my collection and describe why they are important to me. Find the polish article here: 5 PŁYT

1. Chelsea Wolfe - Unknown Rooms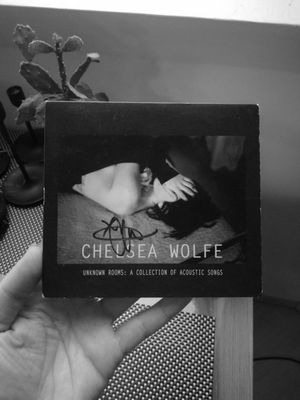 This album really changed my life. In my very early teens I was listening to The Yeah Yeah Yeahs, Nirvana, Evanescence, Cradle of Filth, The Distillers, 
Loreena Mckennit, Joan Baez - a couple of which, my punk friends at the time would definitely make fun of me for. 
When I discovered Chelsea Wolfe in 2014 I was, at that time, just starting to perform at open mics and writing acoustic singer-songwriter material. In The first song of Unknown Rooms I heard all those genres came flooding together. I was immediately breathtaken and in love, like she understood everything that I'd been searching for in music and put it together in one. This holds true far and beyond this one album when it comes to Chelsea Wolfe. I'm completely in love with what she creates. Her music takes you on a journey without borders.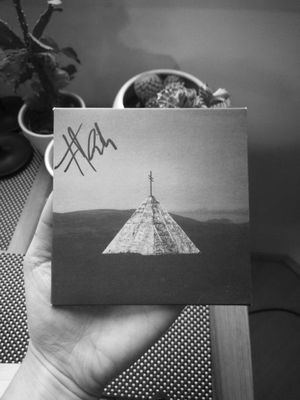 With CW I've learned it's ok (contradicting those punk friends) to appreciate such a wide variety of music and intertwine that in what you created. 
I've had the opportunity to see CW live 5 times - I was on my way to see her latest material in berlin when COVID-19 hit and it was canceled. 
2. Timber Timbre - Creep on Creepin' On 
I've tried hard to remember when I discovered TT. I'd like to personally thank whoever introduced me to them. For the life of me I can't remember but damn am I grateful for it. I drive an old car and this is the time when I get to listen to my CD's - This album about every 5th in the rotation. Timber Timbre is an incredibly eclectic group that masters melodies, intertwining genres, story-telling, gives me goosebumps every time and keeps me curious without being too pretentious in all their spooky glory. All of their albums I can listen to on repeat. 
TT has taught me to really listen. These songs are deep with so many layers of texture, twists and turns. With every listen I hear something new. 
I had the opportunity to see them perform at Proxima in Warsaw in 2016. I didn't know I had it in my to turn into a babbling blushing teenage girl when meeting them. But I did. 
 


3. 16 Horsepower - Live March 2001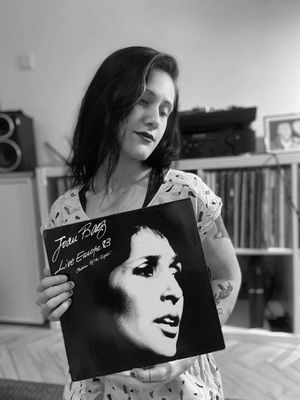 MP3s, does it count? I had to add this Colorado band to the list as it is another that has changed my life and the way I perceive, write and hear music. I am a Colorado girl and I have always loved heavy, dark, melodic music but I grew up surrounded by folk and bluegrass and you just can't quite escape that. It lives in your blood when you grow up in the mountains. 
16 Horsepower showed me that you don't have to try and escape it. You can use it to your benefit by ramming those two worlds head on into each other and creating something so much more honest and powerful. 
4. Joan Baez - Live Europe 83 
The voice of an angle. Pure nostalgia and strength is the music of Joan Baez. As a female singer-songwriter I am greatly inspired by the ladies of the 60's and 70's who paved the way for us today. They say the music industry is a man's world - imagine what it was like back then. Regardless of any trials or discriminations Joan Baez stood strong and honest taming and captivating her audience which can be clearly heard in this album of her live performance in France 1983. 
Her music reminds me that ladies can seriously dominate even with an acoustic guitar. 
5. Ewa Demarczyk - Live 
When I listen to an album, I look at it as a whole piece - rather than one song after another. I want to hear the story. Ewa Demarczyk to my surprise, plunged into my soul and captivated me with her unexpected, theatrical, multilingual story. I am often asked who my favorite polish artists are and Ewa has become my polsih black angel. Her music from this era and today is not like anything i have ever heard. 
Listening to her reminds me to write without structure.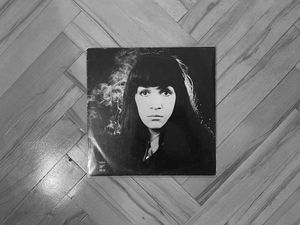 Runners Up: 
Sharon Van Etten - Remind Me Tomorrow / Are We There / Tramp 
Inspires me to be more lyrically honest. 
Dead Combo - Odeon Hotel / I know, I Alone 
Inspires me to explore fado and continue to blend genres and explore poetry 
Portishead - Dummy 
Teaches me to listen and experiment with what I might not expect. 

The Rocky Horror Picture Show Soundtrack 
Just the best musical ever - I can't count how many times I've danced and sang to this one. 
Always reminds me to stay weird and keeps me connected to my child self.

Soundrive article in Polish here: 5 PŁYT